Mount Elephant entrance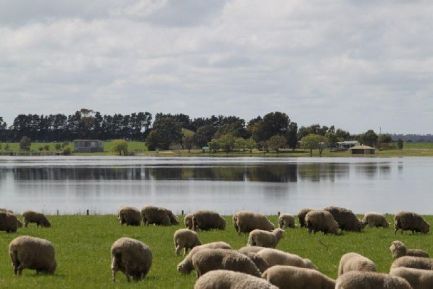 Derrinallum is settled at the foot of Mount Elephant, a 240m high dormant volcano featuring a conical breached scoria cone with a crater 90m deep. Mount Elephant was purchased by the community, in partnership with Trust for Nature, in 2000 and has been developed as a tourist destination and recreational reserve with walking tracks and great views. Thousands of trees and grasses have been planted, and rehabilitation works, rabbit and weed control undertaken.
The Mount is open every Sunday 1-4 pm, visitors welcome at all times; please contact committee to arrange access: phone Geoff on 5597 6570 or Lesley 5597 0243 mobile 0409 535 914 web http://sites.google.com/site/visitmountelephant/home
Derrinallum is in Corangamite Shire. At the 2011 census, Derrinallum population was 512. The town is a service centre for surrounding farming communities involved in cropping, grazing, wool, sheep, cattle and some dairying. The town has these services:
Rural transaction centre - Centrelink Access point, secretarial services, internet access, printing, sale of pre-loved books, local arts and crafts, tourist information

Derrinallum P-12 College, a co-educational state school with excellent facilities and programs

Front Paddock licensed restaurant

Foodworks supermarket

Hotel/motel

Takeaway food

Newsagency

Post office

Library

Community Opportunity Shop

Stock & Station store

Fuel and mechanical repairs

Agricultural services

Community hall

RSL Sub Branch

History group

CFA

CWA

Senior Citizens Club.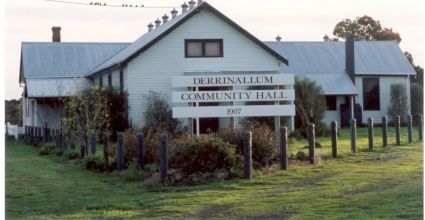 Groups include walking, pilates and gentle exercises. Derrinallum, in conjunction with neighbouring township Lismore, supports an Australian Rules football team, and associated netball club, competing in the Mininera & District Football League. Other - very active - sporting clubs with excellent facilities include lawn bowls, croquet, cricket, tennis, fishing, yachting, power boat. There are several lakes in the area which have recently filled with water again after several dry years. These include Deep Lake and Lake Ettrick (or Tooliorook) which are stocked with fish and provide excellent opportunities for boating, water sports and recreational fishing. Camping is available at Deep Lake Reserve, Chatsworth Rd, contact Tony Young phone 0407 201 735 web deeplake.wix.com/recreationreserve email deeplakereserve(at)gmail.com Facebook https://www.facebook.com/deeplakerecreationreserve
Enquiries about what Derrinallum offers, please email derridisc(at)bigpond.com or contact Derrinallum Progress Association - phone 03 5597 6813 or 0497 212 274.
Check out fortnightly News & Natter for our local businesses, and to find out what's on.
News & Natter, now in its 35th year of publication, contains information about local business, sporting and special interest groups and news from around town and local districts. Not published in school holidays. Phone 03 5597 6813 or 0497 212 274. Copies available by emailing derridisc(at)bigpond.com